Enter to win a different prize each day, from Nov. 27th through Dec.24th, with the 25 Days of Christmas Blogshare Giveaways! Each day we will be highlighting a post from one of our 28 blog partners. Look for the link daily that will take you to the blogshare post of the day. By clicking on the day link you will find the rafflecopter form to enter each of the 25 Days of Christmas Giveaways!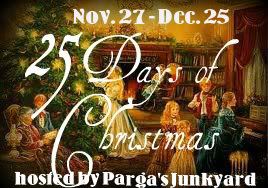 My family has had our share of Christmases where we didn't have a lot of money. In order to make the season brighter and more magical, we have created a few traditions that we hold dear. One of them is having homemade ornaments on our trees. Our Christmas trees are covered from top to bottom with mostly handmade items that range from twisted pipe cleaners that look like candy canes to extremely elaborate cross stitched pieces. To round out our homemade feel, every year we string popcorn and cranberries by hand to wrap around the tree.
Image borrowed from http://www.ehow.com/how_8060303_keep-cranberry-popcorn-garland-fresh.html
The image above is one way to string popcorn and cranberry garlands. I have learned from searching through the internet that the way that my family does it is rather unique. I think most people prefer not to have a very cluttered Christmas tree, where we pack as much on it as possible. It's like a time capsule for however many years our ornaments have survived. It turns out that a lot of people create fancy patterns by spreading out the popcorn with cranberries, but we string them separately.
We use thin and extra long doll needles and quilting thread. I am normally the one threading the needles because my eyesight is better than everyone else. I use a double string method where I stretch the thread to my arm span, put the needle on the thread, and stretch the thread to my arm span a second time. Then I cut the thread and tie the two ends to large buttons. This allows the needle not move on the thread and keeps the knot in the thread from ruining the popcorn or cranberries. The buttons keep the popcorn and cranberries on the actual thread.
We always start with stringing the cranberries. They are easier to string and they are heavier. We string our cranberries all on one string (meaning no popcorn on the string), which I suppose makes it cost a little more. It takes a lot of bags of cranberries to cover the whole tree and that varies by how close you wrap it around the tree and how big the tree is.
A note about the popcorn, the popcorn cannot be fresh and you really can't use the kind that is popped in the microwave. Microwave popcorn tends to have butter on it which makes it slick and hard to stab a needle through. You *will* stab yourself a few times with the needle if you use fresh popcorn or buttered popcorn. It will fall apart in your fingers if it is fresh. That said, depending on where you live, the time it takes for your popcorn to get just stale enough to string and not so stale that a needle won't go through it will vary by temperatures and humidity. We normally pop ours the night before and leave it in the garage in a paper bag over night. The next night, all the women in the family get together for wine, crackers, Christmas music, and stringing.
It the end, we have our tree with strings of lights, cranberries, popcorn, and an aluminum foil chain (in that order). After that, we put the ornaments on the tree. Below is last year's Christmas tree. It's not a close up, but you can see our garlands on it.
a Rafflecopter giveaway