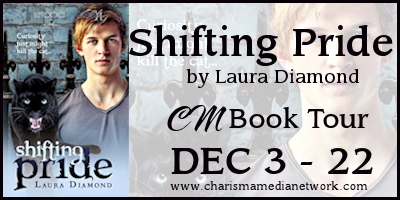 Title:
Shifting Pride
Series:
Author:
Laura Diamond
Publisher:
Etopia Press
Description:
Curiosity brings out the Kitty...
Sixteen-year-old Nickie Leone has proof her father is still alive. His watch arrives in the mail, with a note telling her to "keep it hidden," and her curiosity is piqued. She obeys the request, even keeping it hidden from her mother. But when an email from her father disappears before her very eyes, she begins to question her own sanity.
And things get even more complicated when she meets Xavian Katz, the blue-eyed, blonde hottie whose contagious smile and ridiculous sense of humor make her want to tell him all her secrets. But there's a current beneath his charm that she can't quite read. He's hiding something.
When Nickie grows pointed ears and whiskers…and then a tail!...Xavian (who always seems to knows the right time to be around) seems unsurprised. He's a shapeshifter too, a coincidence that Nickie can't deny or ignore. She needs his help to master her new abilities, because her father's rival, Derek, wants her to join his tribe. The last thing she wants is to be under his rule, but Derek's got something to do with her dad's disappearance—she knows it. And maybe letting herself be captured is the best way to find out…
Review:
This book was a pleasant change of pace for me. I love cats and so far have loved any werecat shifter book I have picked up. This particular story took me about eight hours to read. In the beginning you may be a little confused, but the main character Nickie is very confused. You get pieces of the puzzle fast enough to realize that Nickie is not ordinary and perhaps the people she surrounds herself with are not normal either. Her dad is missing, a new boy moves to the neighborhood whom is driving her crazy mentally and physically, her mom seems to willing to accept that her dad is probably dead, and to top it off, she's getting weird notes in different hand writings tell her conflicting things while always trying to convince her that she might be a werecat. How odd is that?
Well I absolutely loved the story. There were several twists that kept me wondering what would happen next. The biggest surprise came at the end. It's not a cliffhanger so don't think that is the surprise, but I was left with one big question that I hope means there will be a second book. I can tell you that there is a prequel to Shifting Pride called New Pride. As soon as I find time to read it, I plan to.
Purchase the book:
Amazon.com -
Kindle
Barnes And Noble -
Nook
---
Thank you for visiting with author Laura Diamond on her Blog Tour for "Shifting Pride." As a thank you, please go to Laura's website to register for a free copy of "New Pride," the prequel novella to Shifting Pride.
This is the Laura Diamond Fan Page link:
http://authorlauradiamond.com/?page_id=37
Once you register, your name will be entered into the drawing. A random entry will be chosen and a copy of the prequel will be sent to the lucky winner!
Tour Stops:
12/03 -
http://devotedmommyof3.blogspot.com
12/04 -
http://NewsBlaze.com
12/05 -
http://www.becausemymommasaysso.blogspot.com
- excerpt
12/06 -
http://beautybrite.com
12/07 - Rhonda Laurel – The Writer's Blog – Interview & Excerpt
12/10 -
http://www.musings-of-a-bookworm
12/11 -
http://danisuedreams.blogspot.com
12/12 -
http://www.fairytalereviews.blogspot.com
12/13 -
http://thenovicechristian.com
12/14 -
http://speedyreader-allthingsbooks.blogspot.com
- interview
12/17 -
http://StressedRach.co.uk
12/18 -
http://coziecorner.blogspot.com
12/19 -
http://identitydiscovery.net
12/20 -
http://www.optimisticmommy.com
12/21 -
http://www.craftymomof3.com
12/22 -
http://BookCrazyReviews.com
- excerpt
This book tour is brought to you by Charisma Media
Disclosure: This post may contain affiliate links.