Blogshare Post of the Day - Dec. 25th
by Operation $40K
There are a lot of people that are forgotten during the holidays...
they are not part of someone's "A" list and usually end up alone.
You might not know their story, you might think they have somewhere to go,
you might not realize that the empty chair at your holiday table could have been the richest gift you could share this holiday season...your fellowship.
you enter the giveaway for a $25.00 Amazon Gift Card.
Blessings to you and your family!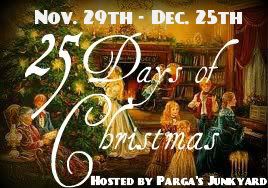 Enter to win a different prize each day, from Nov. 29th through Dec.24th,
with the 25 Days of Christmas Blogshare Giveaways!
Each day we will be highlighting a post from one of our 28 blog partners.
Look for the link daily that will take you to the blogshare post of the day.
By clicking on the day link you will find the rafflecopter form to enter
each of the 25 Days of Christmas Giveaways!